What are the best digital audio workstations (DAWs) for beginners? This question comes up often for people who want to begin their adventure in music creation and the answer isn't always easy. Of course, there is no one digital audio workstation that's best for everyone as everyone's music production needs are different, So we can try to go over them and see which ones might be the right fit in your case.
So in this article, I would like to propose some of the best free DAWs and some of the best premium daw options as well, so let's dive in.
Pro Tools is the next digital audio workstation on this list. This one is still referred to as the industry standard and might be the best fit if you're going to dive deeper into audio engineering.
Pro Tools comes with more than a hundred plugins that include an assortment of professional-quality effects for recording full bands or several inputs simultaneously. It can also be a good fit for solo artists.
You can actually download a free limited version called Pro Tools first and take it for a bit of a test drive but the free version is limited to sixteen tracks and it only comes with one instrument but it does have quite a few of the great effects with it. you can get Pro Tools on Mac and Windows.
Learning difficulty: 8/10
Good for: Mostly everything
Price range: Free – 299$ (yearly subscription)
Advantages: Industry standard, transferable skills, lots of plugins, lots of options
Platforms: Windows, MAC
Reaper might be a great fit for you if you want to get used to a traditional DAW layout that will look similar to the industry standard ( like Pro Tools) but pay less.
Reaper's learning curve might be a little steeper but it's worth learning and the skills you learn here can be transferable to other DAWs.
This one is good for musicians or producers that want to record full bands or more than one person at the same time.
It can be a good fit for creating electronic music however if your focus is more on MIDI and loops you might consider a few better options.
Reaper includes lots of effects, plugins and you can add your third-party plugins as well. There are no instrument plugins included but they are quite easy to find for free on the net. Reaper is available both on Windows and Mac and you can find its free limitless 60-day trial to try it out and then it's just $60 for a full license.
Learning difficulty: 7/10
Good for: Singer/songwriter, Bands, Electronic music 
Price range: Free – 60$
Advantages: transferable skills, close to Industry-standard, lots of plugins 
Platforms: Windows, MAC
Next up on the list is MAGIX Music Maker. There are different levels of this software, free, plus, and premium.
With the free version, there is a track limit, and you can't add third-party plugins but even the free version comes with some great sounding instrument plugins and sound pools to get you started.
The paid versions give you more instruments more sound pools and third-party instrument access.
Additionally more tracks this down might appeal to someone that wants to make electronic music primarily as it makes it easy to work with loops.
The sound pools are like loop packs, they include a variety of loops that all work together and you can adjust the key of them, easily slice them up and arrange them in the timeline as needed.
A mix of sound pools and MIDI instruments can be the start of a great track so MAGIX Music Maker is probably one of the easier DAWs to get started.
One downside to this one is that it has a slightly different workflow, so if you're planning on switching to another DAW, you might have to re-learn the work process for the new one.
Learning difficulty: 5/10
Good for: Electronic music 
Price range: Free – 80$
Advantages: Easy to work with loops the sound pools
Platforms: Windows
The next digital audio workstation on the list is a cakewalk by band lab. this used to be a premium DAW but now it's free.
Cakewalk has a traditional user interface and workflow similar to Pro Tools so it's quite transitional. In this one, you get some great instruments and effects plus you can add third-party plugins.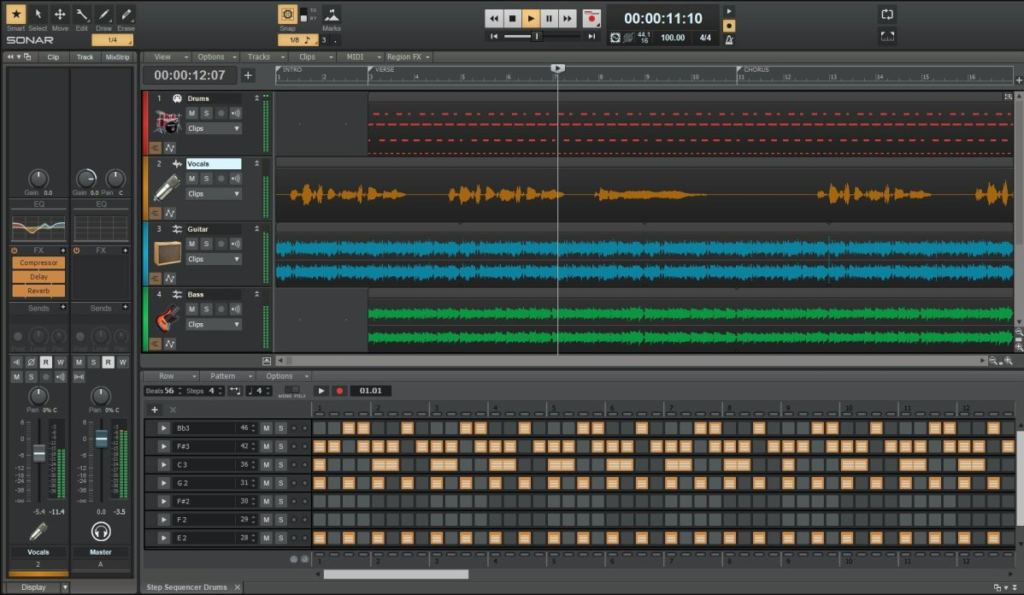 Cakewalk is a good fit for bands and singer/songwriters but electronic musicians can also take advantage of its versatile channel strip feature that is great for adding character to your vocals and instruments and help you stand out from the crowd.
Overall Cakewalk can be perfect for beginners as it's free and the skills you learn here can transfer to most professional programs – the downside is that it only comes on Windows machines.
Learning difficulty: 6.5/10
Good for: Singer/songwriter, Band, Electronic music 
Price range: Free
Advantages: Close to industry standard, great instruments, and effects, FREE
Platforms: Windows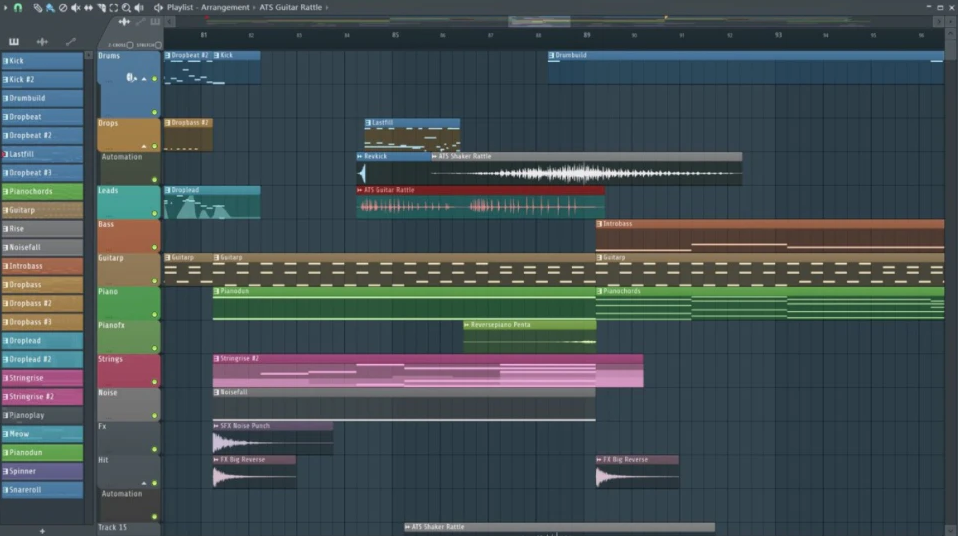 Next up is FL Studio that might be the easiest software to get started with because of the ease in usability.
It comes with a large number of effects and instruments to get you started working with virtual instruments and MIDI is super easy.
Workflow in FL Studio is pretty different compared to more traditional recording programs but it's super quick to work in. If you're a beat creator, electronic music creator, or solo musician this DAW might be the best choice for you but bands can also use FL Studio for performing.
You can find a fully unlocked free trial from their website, however, you can get various licenses depending on your needs. it's available on Windows and Mac.
Learning difficulty: 5/10
Good for: Electronic music, solo musicians
Price range: Free – 99$ / 199$ / 299$ or 499$ 
Advantages: Easy to use, 
Platforms: Windows, Mac
Moving on, we have another free daw this one is Mac only and it's GarageBand. This one comes with everything you need to start creating music either in the box or recording real instruments into your Mac.
You get a large library of loops instruments and effects with presets covering many different styles of music. You can work in iCloud so your projects will be available across multiple computers and devices.
You can even start a song on the free iPhone or iPad app then import it into your computer to take your music production even further if you're on a Mac and just getting into home studio music production this one should be a no-brainer for you to at least tryout.
Learning difficulty: 5/10
Good for: Various styles
Price range: Free
Advantages: big library of instruments and loops, FREE
Platforms: Mac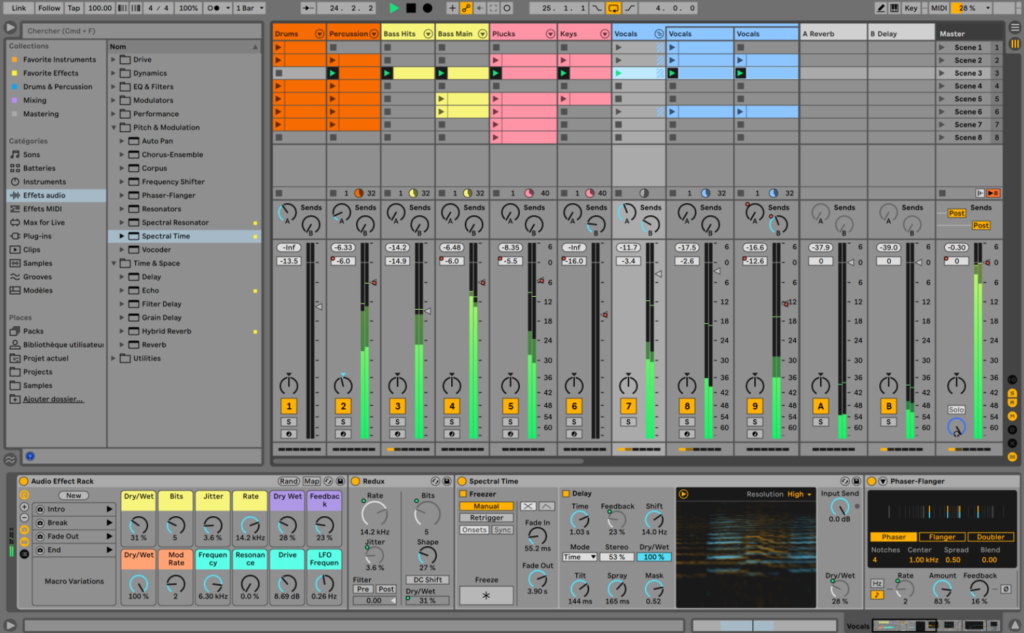 The next program on the list can have a little bit of a different workflow from a traditional DAW. This one is Ableton Live. You can still use this in a similar way to a traditional DAW with linear recording and editing, but it also adds a whole other dimension to it.
The session view can help with composing songs or performing live you load samples or MIDI clips into the tracks and then trigger the tracks as you like and record this so you can go back and listen then edit it.
Ableton allows you to easily capture that freestyle and transform it into a song.
Ableton is very popular with beat creator's DJs and pretty much any electronic music style, but you can use it to record bands or whatever else as It's very versatile.
You can download a 30-day free trial, but if you purchased an audio interface or MIDI keyboard you may have got a license for Ableton Live Lite, which is a free limited version of it. This one is available on Mac and Windows.
Learning difficulty: 7.5/10
Good for: Electronic, live performances
Price range: ree – 99$ / 449$ / 749$
Advantages: Live performance view, Easy to freestyle
Platforms: Mac
Next up is bandlab, My personal favorite for beginners, quite easy to use, and the most portable DAW of them all. It's free and online. You work in the cloud and have unlimited projects, limitless storage, and downloads of sounds and tracks.
There is a vast selection of virtual instruments and thousands of loops or you can connect your audio interface and record your voice or instruments straight into the cloud.
You can also bring in your own pre-recorded audio if you want to if you're a solo artist and you want to create beats or electronic styles. This one can be great for beginners as it is a great value and it's free, and the best part is that you don't need to go through any installation process. This one can be used online on Windows, Mac iOS, Android 
Learning difficulty: 5/10
Good for: Variety of styles
Price range: Free
Advantages: Online, unlimited resources, easy to use, very portable
Platforms: Windows, Mac iOS, Android