Playing any musical instrument always entails getting accessories to care for your instrument and extend its life. 
Saxophone accessories include a wide range of tools and kits to ensure you have a better experience playing and get better overall results.
Here's a list we've compiled about the best accessories for saxophones for 2022.
If you want to take proper care of your sax and ensure that it lasts a long time in optimum condition, you need to keep your sax protected.
 Normally saxophones come with their case when you buy them, but you also have the option to upgrade to a more convenient sax case or get a new one if the one you have is to worn out.
If you're transporting your sax from one place to another, always do it with a saxophone case. 
A good case should protect your sax from bashes and scratches, should be easy to carry around on foot and if it's compact it will be more convenient for travel, so this is among essential saxophone accessories.
Space for storage inside or outside of the case is a plus.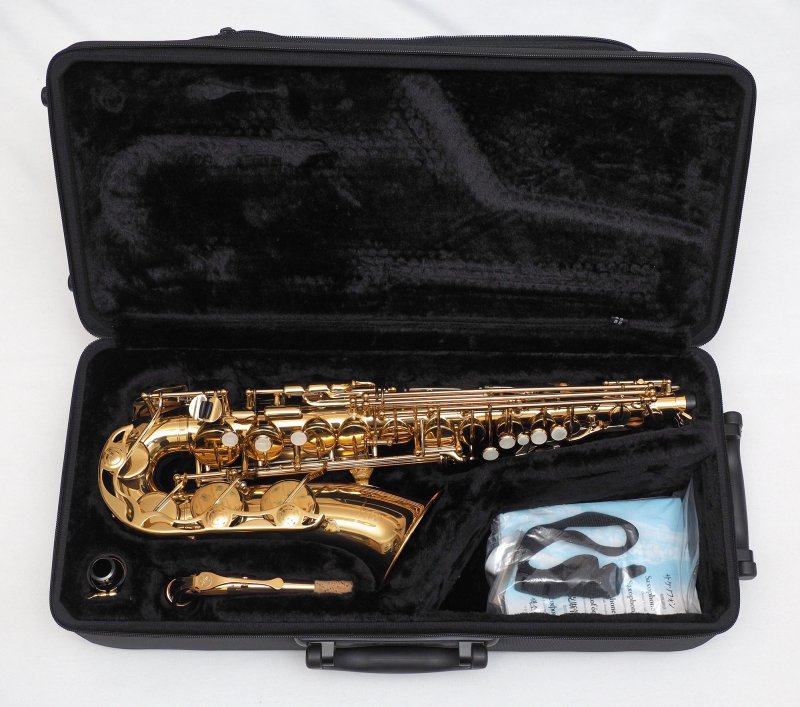 Not to be confused with the saxophone case, a gig bag is made from softer material so you can carry it around easier and more comfortable to gigs, concerts, and rehearsals. 
Although they are very convenient, they don't protect your sax as much as the case does, so be careful.
The inside has protective padding to act as a shield against minor bumps, but not much more. 
So, if you use a gig-bag instead of the saxophone case you need to pay extra attention, so you don't severely damage your sax.
A very useful gadget to have around, and one of the best accessories for sax, especially if you play gigs or concerts, is a sax stand that allows you to leave your instrument upright while you switch to another instrument or during breaks.
Just make sure to choose one that fits your saxophone bell without causing stress or damage to the metal, and that your sax doesn't wobble while standing. 
If you notice it wobbles a little, covering the peg with a soft fabric will make the hold snugger around the sax.
If you need to practice and are worried about disturbing your housemates and neighbors, then you need to get yourself a saxophone mute as one of your saxophone accessories.
A sax mute drastically lowers the decibels from the instrument while playing it, allowing you to extend your practice time without bothering, to some degree, those around you. 
It won't affect the way you play because there won't be any blockage to air passages in the sax and it won't affect your embouchure either.
You can choose, depending on your situation and your budget, between a normal saxophone muter that goes in the bell, the neck or mouthpiece, or a full-body mute that encases the whole instrument.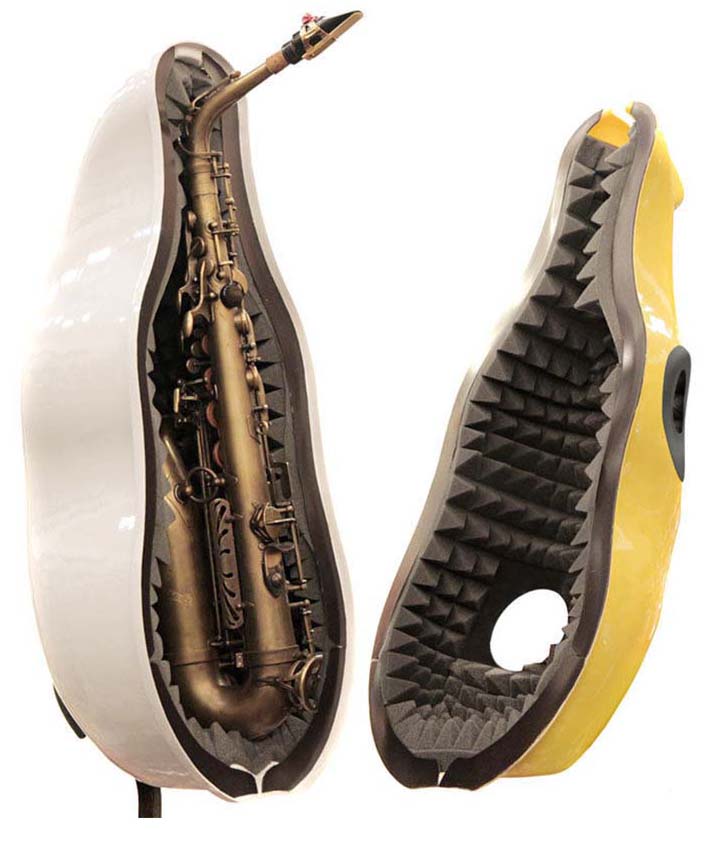 To ensure that your saxophone lasts for a long time in good condition, part of the care routine should include proper cleaning and removing as much moisture as possible after each session.
A cleaning rag with weight and a string can go through the bell and be pulled through the neck opening, or vice versa, to swipe the whole interior of your sax.
This is actually a necessity that must be part of your sax care kit to be carried around everywhere you go with your instrument.
A saxophone neck strap is like a belt that supports the saxophone securely in position so you can play more comfortably.  
There are different types of saxophone straps depending on your needs and preferences, such as basic neck straps, over-the-shoulder straps, harness straps, as well as different kinds of hooks and clasps.
Understanding that everybody's needs may vary, different types of sax straps have been designed to provide comfort and allow the sax player to perform without straining his/her hands, elbows, and wrists.
Choosing one will depend on personal preferences, health recommendations, and how much you can afford to invest.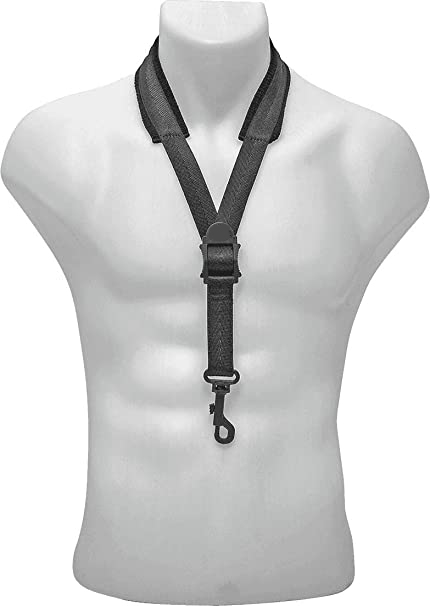 A common complaint among sax players is the inconsistency in reeds and how many they end up discarding. 
A solution to this is getting a reed cutter to trim the ends of the reeds, remove imperfections, harden reeds that are soft, and overall extend the playability of reeds.
So, if your budget is tight or simply don't want to keep discarding reeds that could be saved, then invest in a reed cutter to bring them back to life and save a buck or two.
After each playing session, you should remove the reed and keep it safely in a reed case to prevent the reed from drying, and losing its shape as this eventually will render it unplayable. 
Also, if you have them lying around everywhere in the sax case, they can suffer other damages or get lost.
Reed cases are cool sax accessories that will prolong the life of your reeds and save you money in the long run, as well as keep them organized so you can keep track of what you have and what else you need to get.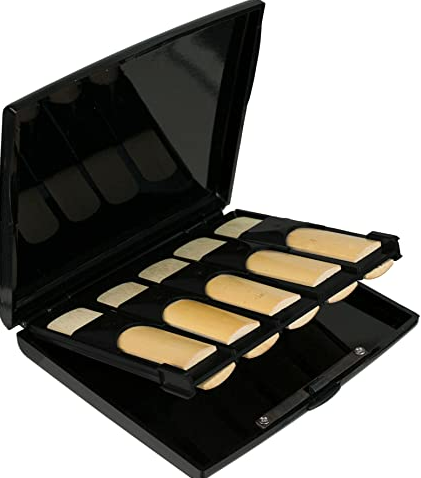 These small plastic patches are designed to prevent bite marks from appearing on your mouthpiece, as well as to make playing more comfortable because they prevent your teeth from vibrating too much.
They come in different levels of thickness so, depending on what your personal preferences are, you can choose what feels and looks better for you.
There are also protective cushions that not only prevent damaging the mouthpiece with your upper teeth but also aid in maintaining a stable embouchure. You place them on the beak near the tip of the mouthpiece.
10. Replacement neck screw
Recently there have appeared several products that claim they improve the saxophone's tone, and an example of those is the replacement neck screw, to be used instead of lyre screws.  
They are designed to compensate for the resonance lost at the joint between the neck and the body of the horn, and the extra weight is supposed to boost projection and give fatter and fuller sounds.
To ensure a long life for the neck's cork you need to use cork grease regularly. 
If you don't, you risk tearing off your cork while forcing the mouthpiece on or off the neck.
Cork grease lubricates the cork to ensure a good seal between parts of the instrument so that no air leaks through the joints while playing.
It also helps players adjust the tuning pieces with respect to their pitch, so it's an essential element of a sax care kit.
Endorsed by high profile personalities such as Jaleel Shaw, Gerald Albright, and Camille Thurman, this new accessory has been slowly claiming a place among sax players.
What the Key Leaves do is that, while your saxophone is not being played, it props open the G sharp, C sharp, and E flat keys so they can dry easily and prevents keys from getting stuck. 
It also increases airflow to the saxophone's body and pads, resulting in fewer bacteria and fungus build-up, which can not only damage the instrument but may also be a health hazard for the player.
13. Portable sheet music stands
If you play in different and unknown places, you should include portable sheet music stand as part of your saxophone gear. 
Many are very compact and easy to carry around, as well as durable and convenient.
You can find many options in music instrument stores and online. Trust us, this will make your life that much easier, and it will be totally worth it.
This tool will enhance reed performance by flattening reed tables so you can fine-tune your reed fast and accurately.
Sometimes you buy a box of reeds and notice that not all of them work correctly or are consistent, and if you take into consideration that they don't come cheap you will most definitely want to make your investment worthwhile. 
So, the Reed Geek will help you with your reed's maintenance and will adjust those new ones with issues.
Take your time to search about the Reed Geek and their different models: the Classic and Black Diamond G4.
As you can see, there's a lot to learn and know about saxophone accessories, and they keep evolving over time. 
Solutions to new problems or improvements to current saxophone gear are continually being included in the roster.
From essentials to saxophone accessories that make your experience more enjoyable, there's something for everyone.