When it comes to saxophones, they come in 4 major varieties: soprano, alto, tenor, and bass.  When searching for the best saxophones to play jazz music, alto and tenor saxes are said to be the main choice among some of the prominent professionals. 
Both of these instruments are transposing, meaning neither sound the same as a piano or other concert pitch instrument. They are different in size, being the tenor sax slightly larger and heavier, as well as different in register. 
The alto saxophone is an E-flat instrument, and the tenor sax is built half an octave lower. So, whenever you search for jazz music instruments, you will see a variety of alto and tenor jazz saxophones among them.
Here's a selection of what professional jazz saxophone players consider to be the best on the market.
Yamaha YAS-280 Student Alto Saxophone
Yamaha is a top brand that's been making quality saxophones since 1967, and the YAS-280 student alto saxophone is one of the best beginners' sax available. 
Lightweight and designed to make playing easier and more comfortable while showcasing a stylish gold lacquer finish and faux Mother-of-Pearl buttons to the keys. It has a strong neck receiver and adjustable thumb rest, as well as a connector for low B to C# and a high F# key.
Yamaha saxophones always have perfect intonation and the YAS-280 plays smoothly through all registers, making it a good choice for both students and experienced players.
 It produces rich, warm, accurate and pleasant tones with enough resonance to fill up large spaces with bright sounds and superior intonation, making it an ideal choice to play smooth jazz.
The downside is its price, because it's not cheap and this may be restrictive to some people, but you would be getting an instrument that retains value and is highly durable. Yamaha designed this sax with the intention of it being extremely durable and reliable, and they accomplished this. 
However, you will not be a student or amateur forever and professional players have different skills and needs, therefore you will need to get another instrument later.
For more information, you can check out our article where we provide a full review of Yamaha YAS-280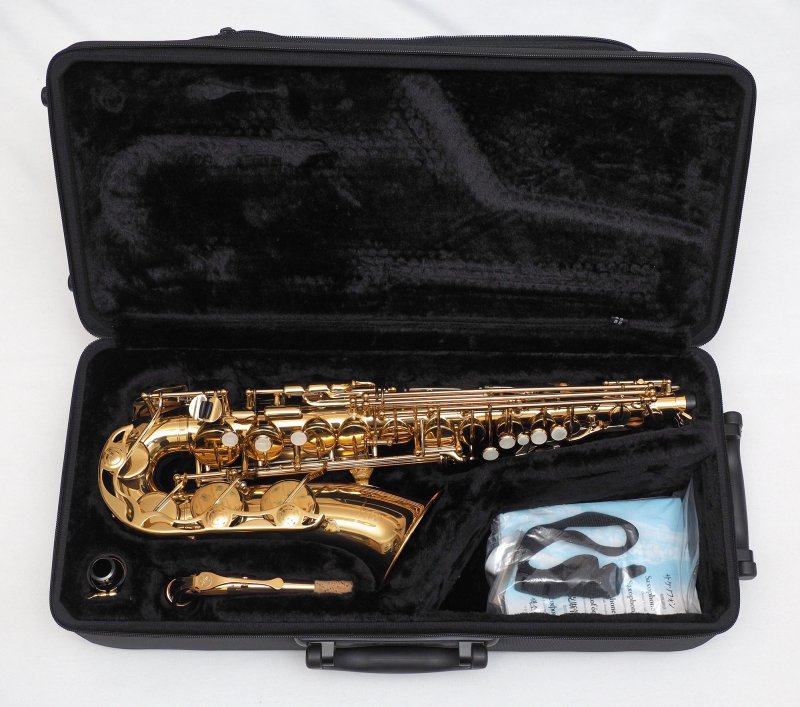 Kaizer Alto Saxophone E Flat
Made in the US, this jazz saxophone was designed for students in the key E flat. Kaizer uses quality materials for its instruments, and the Alto Saxophone's body is made from yellow brass with gold lacquer finish and faux Mother-of-Pearl key caps. 
The keys are fitted with steel springs which makes them very responsive. It also features leatherette pads for better note control and intonation, as well as acting as a guard against corrosion and providing great sealing all the time.
The way this saxophone was designed allows it to be easily held and therefore facilitates playability. It's also extremely lightweight making it suitable for amateurs.
When you buy this sax, you will also get a mouthpiece, a care kit and it comes in a strong fiber case with zippers. An interesting detail is that it has a lifetime warranty against manufacturing defects. 
So, if the instrument shows issues that are not a result of natural wear and tear or from incorrect care and neglect, Kaizer will replace any broken parts.
It must be clarified that this is not an inexpensive saxophone, but it is so durable that once you are a more experienced saxophone player, you can keep this one as a backup sax or for home practice.
Yamaha YAS-62 Professional Alto Saxophone
Another example of excellent craftsmanship by Yamaha is the YAS-62 Professional Alto Saxophone. This jazz saxophone has a specially designed neck to facilitate control and achieve faster response from the instrument. 
It comes with a 62-saxophone neck, which is narrower than some others but gives faster response when playing, polyester key buttons, adjustable thumb rest and an AS4C mouthpiece. The design of this saxophone leads to better tone and sound control and it's also lighter in terms of weight compared to other saxophones.
Aesthetically speaking, the YAS-62 Professional Alto features a two-piece bell with hand engravings that make it look modern, elegant, and sleek.
Among jazz saxophonists the Yamaha YAS-62 is considered a legend because it was designed in an exhaustive development program, including consultation and requirements from top jazz saxophonists to ensure that the instrument features cross-genre proficiency. 
So, it doesn't matter if you are playing soft jazz or any other smooth music, this instrument is set to deliver. As a result, professional saxophonists from all styles of music rely on this model as their main alto.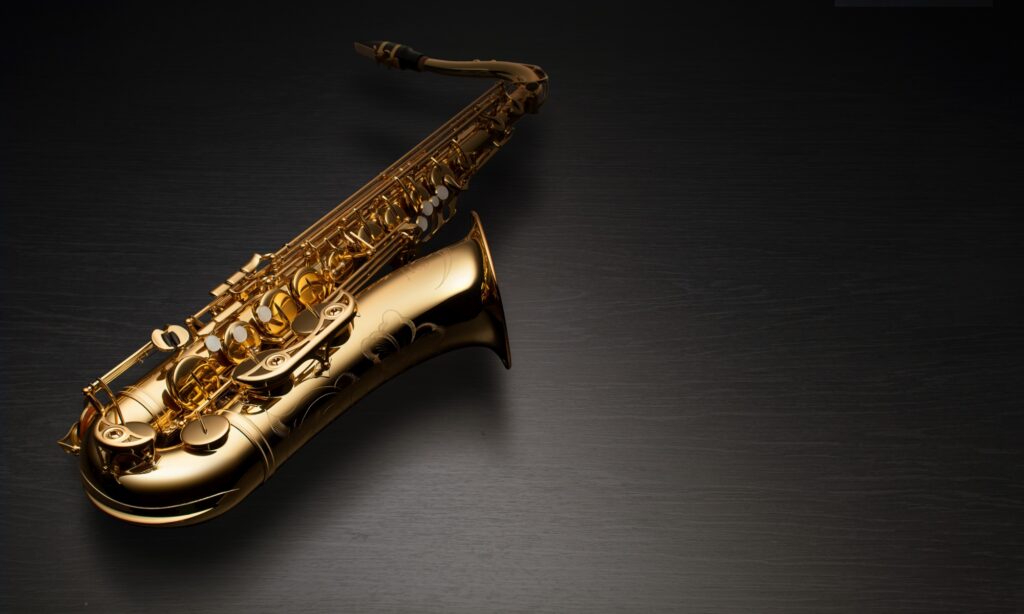 Rampone and Cazzani R1 Jazz
Another great example of great craftsmanship from a small family business is Italian Rampone and Cazzani R1 Jazz saxophone. Specifically made to play jazz, it comes with an elaborately engraved body available in a variety of metals and customizable options.
Although it's not a widely known brand, Rampone and Cazzani have been building instruments for over 200 years and it's known for its top-quality saxophones. Its handmade horns feature modern ergonomics but retain the character of sound from yesteryear's saxophones. 
The Rampone and Cazzani R1 Jazz sax showcases power, flexibility while being able to perform any musical genre, but designed for smooth jazz music.  
Its technical features include a wide bore, handmade neck, body, bow and bell 100% made in Italy. It ranges from low Bb to high F#, and aesthetically it features matte finish to slow the oxidation process. 
Besides the saxophone, it comes with a kit including cork grease, a shoulder strap, internal cleaning clothes, microfiber cloth, a mouthpiece with ligature, reed, and cap.
So, if you want to not only play with a true jazz saxophone but also impress with an uncommon instrument with real personality, then the Rampone and Cazzani R1 Jazz is the way to go.
This is a relatively new brand in the saxophone world, but its' craftsmanship has granted it a good reputation among its peers, including those searching for a jazz saxophone.
 Hand hammered with French red brass, with satin gold lacquer finish, solid nickel silver neck and Mother-of-Pearl key touches, this Taiwan made saxophone has made its mark among professional saxophone players on a budget.
This is an intermediate instrument aimed for advancing students but suitable for professionals.  Its punchy and contemporary tone make it ideal for playing soft jazz music.
It showcases great sound projection, good intonation from low to high registers and great horn response to changes in dynamics and embouchure. It produces slightly bright tones but that don't turn brittle or shrill for a more contemporary sound.
 The combination of the red brass and solid nickel-silver used to build its Super VI neck creates a thick sound with serious punch throughout.
The overall thought put behind the design and creation of the Le Bravo solidifies the reputation of the Mauriat about how they continually offer quality sound, response, ergonomics, and intonation to impress even the most demanding jazz saxophonist.
From a small Japanese family business, this exquisite jazz saxophone comes from a brand known for making extremely reliable professional saxophones with the highest quality materials and standards.
The bronze WO20 comes in a broad palette of colors and shades, such as clear lacquer, silver-plated, gold-plated with custom engravings and pink gold-plated finish with custom engravings as well. It also has indented genuine Mother-of-Pearl key touches giving a more natural fit and feel and a better grip on the keys.
It gives the rich, warm sound favored by jazz, classical and pop players, giving versatility to this saxophone.
The WO20 is an upgrade on the 992 model where Yanagisawa made adjustments to improve playability and ergonomics. The seesaw linkage between the C# and Bb table keys facilitates faster and smoother fingering, and the additional slider mechanism between the C# and B table keys favor smoother finger transitions between these notes.
 The design of the thumb hook enables the instrument to resonate more freely while the brass thumb rest allows for smoother response and improved tonal balance.
Finally, it features sealed, waterproof pads to facilitate leak-free play and metal tone boosters to enhance tonal clarity and ensure excellent response to volume.
Selmer Paris Reference 54
Henri Selmer is perhaps the most well-known manufacturer of high-quality saxophones, and The Reference 54 pays homage to one of the best saxes of all time, the Selmer Mark VI. 
For this edition, Selmer redesigned the neck for a strong centered sound with great projection, adjusted the bore size and ergonomics, rendering a saxophone with smooth key work and easy to play with modern layout. It also has improved tuning stability and more accessible side and palm keys.
It showcases a matte dark gold lacquer that gives a vintage air to the instrument, engraved bell, leather pads and drawn tone holes with ribbed mounting.
This nostalgic piece was redesigned for today's requirements, including smoother keywork to produce warm and focused sound and bass keys with rolls that facilitate the sliding of the little finger, allowing execution of faster passages. It has excellent intonation, smooth tone, and exceptionally fast response in bass and treble.
Overall, the Selmer Paris Reference 54 is both reliable and ergonomic, with great sound and playing feel of high F# key. Price wise, it doesn't come cheap, but you are making a lifetime purchase that will enable you to play smooth jazz songs.
The selection of jazz saxophones we explored here are a sample of instruments that professional saxophonists and expert musicians consider to be top-of-the-line.
As with every decision in life, the selection of a good jazz saxophone to play mellow slow jazz and other musical variants will always depend on your personal preferences, how the saxophone makes you feel, skill sets and budget. 
If you're searching for something new and unusual, you might be wanting to check out our article on a pocket saxophone