A  baritone saxophone is a perfect choice for lovers of deep music with bright low notes. If you want to play in the long run, you need to choose a portable and durable musical instrument. In this article, we will consider the best models of saxophones that have exactly such features. 
Selmer BS500 Baritone Saxophone​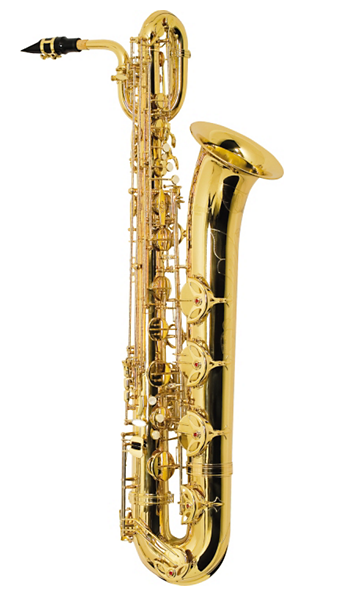 Yamaha YBS-52 Baritone Saxophone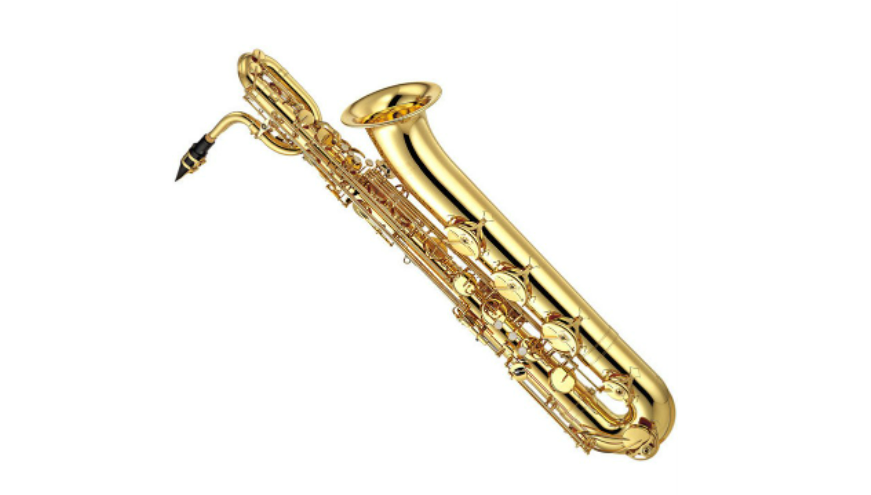 Popular in many music schools
Mendini MBS-30L+92D Baritone Saxophone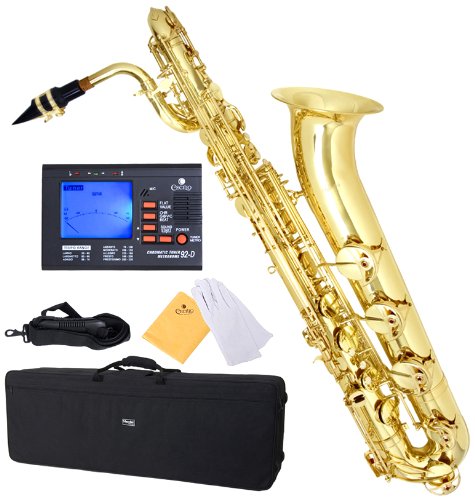 for Both beginners and professionals.
Selmer is a French company, that creates high-quality wooden and copper wind instruments. It was founded by Henri Selmer in Paris in 1885. During its existence, the company has gained worldwide popularity.
Where is the saxophone made?
The first factory was located in Gaillon. Now the main production is concentrated in the city of Mantes-la-Ville, where also the company headquarters is. Mouthpieces, clarinets, and, of course, baritone saxophones are made there.
Saxophone build quality / durability
Selmer BS500 bari saxophone is ideal for daily learning because it is durable. The lacquered coating of this musical instrument protects it from damage and daily wear and tear, saving the shade of the surface. A hard-shell case provides additional protection for the sax. 
The sax has one good sound feature. This is an extended range. That is, the instrument produces different sounds, from low to high. Such an effect is the result of using the three keys: high F#, low A, and low C double key arm. 
Baritone saxophone price can not be called low. You can check it out here!
Sax is easy to carry every day thanks to a case with wheels

The inside of the case is made of soft suede, that provides reliable storage for the saxophone

An adjustable right-hand thumb rest prevents hand fatigue and makes play comfortable

The shiny golden color of the case adds elegance 
Sax does not produce an ideal baritone

Over time, the shining of the musical instrument disappears
High F# and low A keys

Low B and C keys 

Reinforced table key arch

A hard case with wheels
Selmer BS500 baritone sax is find for beginners. You can carry it without a load on the back and shoulders and play different melodies, including advanced compositions.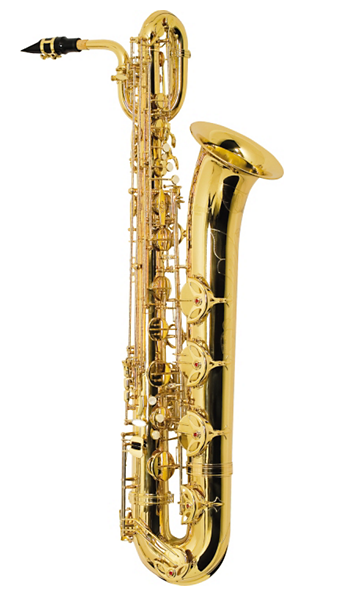 Mendini is a saxophone brand, which fits both beginners and professionals. It is a part of the popular American company, Cecilio, that has been producing a wide range of musical instruments since 2004. 
Where is the saxophone made?
The saxophones are made in factories abroad. Ready musical instruments are tested and then sent to America. They are re-checked at the Los Angeles distribution center. The company headquarters itself is in California.
Saxophone build quality / durability
All musical instruments are of high quality. Every barry saxophone is made out of more than 300 handmade parts, that allows you to play at a high professional level. Its body is of lacquered yellow brass, which provides good durability. 
The sax reproduces a nice deep sound thanks to a brass body and ribbed design. Also, this musical instrument has high F# and low A keys. They allow the playing of different music: jazz, march music, or academic compositions. 
Mendini MBS-30L+92D is a cheap bari sax for beginners. It costs on average from $1500-2000 on the market.
A deep nice sound 

Availability of high F# and low A keys, that give a wide range of implementations

Low Bb spatula keys, which make finger work easy 

Sturdy and lightweight case 

String tuner with a metronome for the instrument tune-up

Nice elegant design thanks to a yellow brass
If you are not a beginner, you need to buy a new

mouthpiece

The sax needs a full professional tune-up
Mouthpiece with ligature and cap

Neck strap

Hard-shell case

Cleaning cloth

Pair of gloves

Chromatic/string tuner with a metronome as a bonus

1 – Year Warranty
Deep baritone saxophone sound, comfortable use, high quality, and wide possibilities of performance make the musical instrument ideal for both beginners and professionals. You only need to tune it up before starting to play. 
Yamaha is a Japanese company that was founded by Torakusu Yamaha in 1887. It has grown from the developer of reed organs to the largest manufacturer of musical instruments, audio equipment, and acoustic systems. 
Where is the saxophone made?
The company headquarters is in Hamamatsu city, Shizuoka Prefecture. The main production also takes place in Japan. Yamaha creates saxophones with the use of a combination of traditional and know-how methods. 
Saxophone build quality / durability
Japanese products have high quality. And Yamaha YBS-52 big saxophone is not an exclusion. This musical instrument combines durable construction, stainless steel springs, and leather pads. The use of these materials provides reliable protection against damage and rapid wear.
The saxophone has a great sound, with solid intonation and the depth inherent in the baritone. One more feature is the possibility to eliminate unclear tones during plays G, G#, and A. A three-vent octave mechanism helps with this. 
Yamaha YBS-52 is not a cheap model. Its cost fluctuates around in the high 5k+ so not everyone can afford this instrument.
Reproduces the full, deep, and nice sound thanks to the drawn tone holes

Has an adjustable thumb rest, which makes the position of the hand and fingers correct

The keys are ergonomic with a smooth stroke, so you naturally feel them without discomfort

Looks elegant thanks to the refined key shape, gold color, and lacquer coating
Saxophones from Yamaha are more expensive than other models for beginners 

Over time, scratches may appear on the surface
Plastic mouthpiece 5 C

Neck strap

Lacquer ligature

Cork grease

Hard shell

baritone saxophone case

5-year warranty
Yamaha YBS-52 intermediate Baritone Saxophone as if created for students. Combine of bold intonation, easy play, comfortable keystrokes, and durability makes it a popular instrument in many music schools around the world.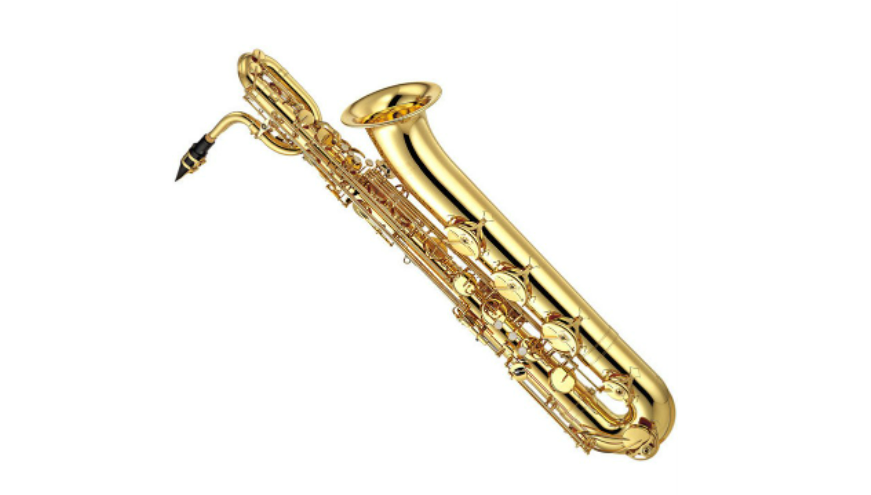 We have reviewed the best models of baritone saxophones that are perfect for the play in the long run. But which instrument to choose? It all depends on your play level: beginner, intermediate, or professional.