A soprano saxophone, as well as a flute, reproduces a vibrant and full sound in higher registers. 
Its melodies are associated with smooth jazz and background music in shopping malls. 
But finding the perfect musical instrument is a whole quest. A review of the three best soprano saxophones will help you make the right choice.
Comfort and good maneuvering.
Selmer SSS280R La Voix II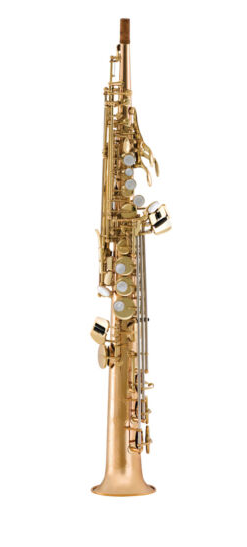 Popular in many music schools
for Both beginners and professionals.
Yamaha is a world-famous manufacturer of musical instruments, that has been on the market since 1887. 
In addition to synthesizers, guitars, drums, and percussion, it also produces lightweight small saxophones.
Where is the saxophone made?
All Yamaha saxophones are made in Japan, where it is the company headquarters. 
To create them, the masters use modern technologies typical for the country of the rising sun, but in tandem with traditional methods. 
Saxophone build quality / durability
All Yamaha saxophones are very qualitative. It concerns both the mechanism and the materials. 
The body of the soprano sax is made of durable and corrosion-resistant yellow brass and felt pads are of wool and waterproof leather.
Yamaha YSS-475II Soprano Saxophone belongs to the middle level, but it sounds like a professional musical instrument. 
It reproduces easy intonation, excellent tone, and lyrical sound. The instrument has such characteristics thanks to a high F# key and improved body shape.
The soprano saxophone is in the same row as instruments in the middle price category. You can check it out here!
Advanced body taper provides good airflow and excellent intonation

The lower vent tube reduces noise

Adjustable thumb rest makes the position of the hand more comfortable 

Custom-style Bb spatula improves the playing technique, helping you to change notes smoother 

Ergonomic keys allow you to easily and quickly play

Laser engraved gives elegance

 
You may find it difficult to get softer darker notes
4C mouthpiece

Ligature

Strap

Backpack style case

Microfiber cloth

Cork grease
Yamaha YSS-475II is a good investment in your musical future. The intermediate light saxophone allows you to play jazz or other compositions professionally with comfort and nice maneuvering.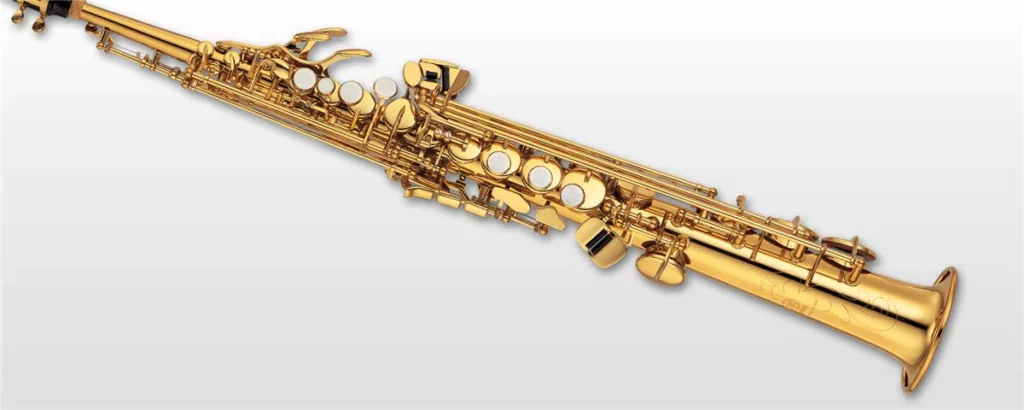 Jupiter is part of the KHS Group, one of the largest musical instrument producers in the world. The company has created different products, both for students of music schools and individual players, since 1930.
Where is the saxophone made?
The company produces all its saxophones in a factory in Taiwan. 
To create high-quality musical instruments, it carefully selects materials. One sax can be made of Japanese raw materials and European components. 
Saxophone build quality / durability
Any high pitch saxophone is made at the highest level. Before the musical instrument is in the online store, it passes over two thousand manufacturing steps and also quality control. 
As a result, you get a carefully crafted work of art with a golden lacquered covering.
Jupiter 547GL Deluxe Soprano Saxophone is on cheap soprano saxophone side. See the pricing here
Mendini MBS-30L+92D is a cheap bari sax for beginners. It costs on average from $1500-2000 on the market.
One-piece construction gives a nice rich sound

Many features that are not available on other saxophones 

The gold-lacquered body gives the instrument a touch of elegance

 
One-piece construction, on the other hand, is a disadvantage because you cannot replace a straight neck with a curved one.
mouthpiece

neck strap

cork grease

cleaning cloth 

wood frame case

 
Nice soprano saxophone sound, many useful features, high quality, and affordable price make the instrument a great find for students. 
Selmer SSS280R La Voix II
Selmer is a French manufacturer of wood and copper wind musical instruments, which has existed since 1885. 
It started its production with mouthpieces and has expanded its range to clarinets, flutes, and also saxophones.
Where is the saxophone made?
All Selmer instruments are made in the workshops in the commune of Mantes-la-Ville, where the company headquarters is located. 
Masters create the widest range of saxophones, from soprano models to bass ones here. 
Saxophone build quality / durability
Selmer SSS280R La Voix II Soprano Saxophone is the embodiment of high quality and perfection. 
This is evidenced by the use of durable rose brass, good assembly, and professional spring tension. Each instrument is developed and tested by professional musicians. 
The sax reproduces a fluid French sound. It has a full range of tones thanks to a flared bell. 
A high G# key provides ample play opportunities. And the special neck of the musical instrument allows you to give some dark or mid-range sounds. 
The soprano saxophone price cannot be called low as well as high. you can check the updated pricing here
Reproduces an excellent sound with a fluid and focused tone 

Has ergonomic keys, thanks to which you can quickly maneuver with your fingers 

Many adjusting screws allow you to easily configure the musical instrument 

Selmer soprano sax is more lightweight than other saxophones

Has a beautiful engraving on the body and bell 

 
Straight traditional neck, which you can not replace with another one 

The saxophone may seem a bit expensive to some musicians 
Selmer USA mouthpiece 

standard ligature

neck strap

couple boxes of reeds 

cork grease 

lightweight

soprano saxophone case 
A harmonious combination of high quality, perfection in every detail, wide sound capabilities, and good design of Selmer SSS280R La Voix II Soprano Saxophone allow every musician to express himself.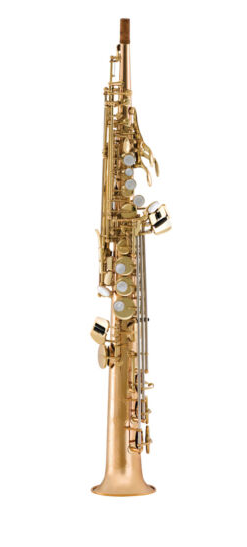 Choosing a saxophone may seem like roulette to you. But this article will help you to select your instrument.
If you want to play professionally on the saxophone of a popular brand, look at the model from Yamaha.
Do you like dark sounds? The Selmer sax is a good choice. And if you prefer a traditional bell flare, you will like Jupiter 547GL Deluxe Soprano Saxophone. In any case, the choice is yours.