The saxophone is an amazing instrument, with its sweet and honey-haze sounds, But sometimes when you practice saxophone it might get bit annoying for the people around you, especially if you are just starting out.
After getting your sax, you might struggle to find a place you can play with full force without disturbing others. 
In this article, I wanted to provide some ideas on how to do that, and what might not work when trying to mute the saxophone.
The first idea that can come to your mind is to mute down saxophone noise, to stuff that bell opening with something to cut out the sounds. 
You can use any soft fabric or cloth soft enough not to damage the instrument. 
This is the easiest and cheapest workaround that anyone can do, however not as effective as it might seem. 
As saxophone is not like some of its brass counterparts, the sound does not only come out of the bell opening, but through other holes on the instrument, so overall the result might not be very satisfying.
Getting a saxophone muffler
The other way you might think to mute the saxophone, is to get a saxophone mute. 
A saxophone mute or saxophone muffler as some might call it is a special device made for saxophone players to silence the bell of a saxophone.
While most of the product description of this type of saxophone silencers claims that with it, you can absorb yourself in practicing saxophone without disturbing others, they simply are not effective either. 
The problem is still the same as mentioned above, saxophones sound does not only come from the bell, so the sound you make is still intense and still disturbing to others regardless of the usage of the saxophone muffler.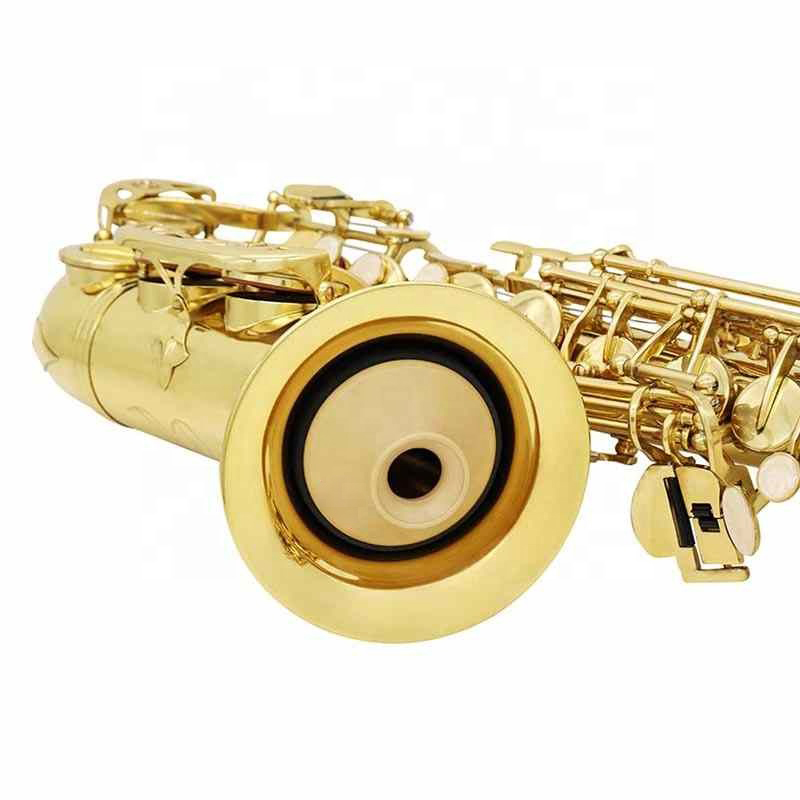 Another way to reduce the sound disturbance to the surroundings is to practice your instrument in a closet-like room. 
Closets usually have enough space for an average person to stand and play saxophone while the clothes help to cut the sound waves and provide natural soundproofing.
Playing sax in such a small room without much echo can reduce the sound and the disturbance, however, it might get a little uncomfortable at times.
If you live in a smaller apartment and you can't find such a room, we can move to the next potential solution.
If you have a car, it can be a nice alternative to your flat, if you are eager to practice and don't want to disturb others. 
You can take your saxophone to your car and do a couple of sessions there if you feel an urge to practice that one melody you've been thinking about the whole day. 
This might be a little awkward if you live in a residential area and people walk around, but hey, it's not like you're doing anything against the law right?
Practice saxophone outdoors
If the weather accommodates, it is a great option to go outdoors and practice the instrument in nature. 
if you live in an urban area, finding a place where you can practice saxophone and not get into the center of attention might be a little tricky. 
However, if you can find the right spot, like a remote corner of the park or a place just outside of the city, you might find the playing experience to be quite rewarding indeed.
If you're wondering how to practice saxophone in the apartment, one of the easiest things you can do if you are cautious of disturbing your neighbors is to ask them about a possible time gap when they won't be present to schedule your practice accordingly.
People will usually be okay with you practicing during the day as long as you let them know about it and won't start practicing to play until 5 at midnight. 
However, if you need to practice extensively and a few hours just are not going to cut it, you can see some other solutions below.
Practice saxophone fingering 
Yet another way to practice saxophone quietly is to learn the fingerings of songs without making a sound. 
During the beginner stage, when practicing the saxophone, it is important to practice the right way of reaching and pressing the keys in addition to training the embouchure and your breathing technique. 
You can practice the posture and get comfortable with holding the instrument while practicing the fingering charts or studying the fingering of new songs.
If you're learning to play saxophone, there is a good chance you have some affiliation with music already and probably know about musical schools or other musical institutions that are around you. 
If that is the case, I would recommend you to try and check out if they have practice rooms available for students, or even for people outside of their institutions. 
You can ask to book one of the practice rooms for free or you can pay a small fee to get in there and master the instrument free of guilt.
Getting a full-size saxophone mute
Full-size saxophone mute have become very popular in the past years, as they practically solve the issue. 
The full-size saxophone mute are full-body cases that cover the entire instrument leaving only the holes to insert hands to reach the keys (see the picture below). 
The case has soundproof insulation inside that effectively reduces the sound of the saxophone while playing. 
The case is easily applicable to your instrument and makes it comfortable to practice in apartments or anywhere without much disturbance to the people around. 
Multiple companies are producing soundproof casings for saxophones, however, most of them have the same functionality and just differ from their outlook and exterior design.
 If you're interested in more details about Full-size sax mute you can check my article about: pros and cons of full-size saxophone muter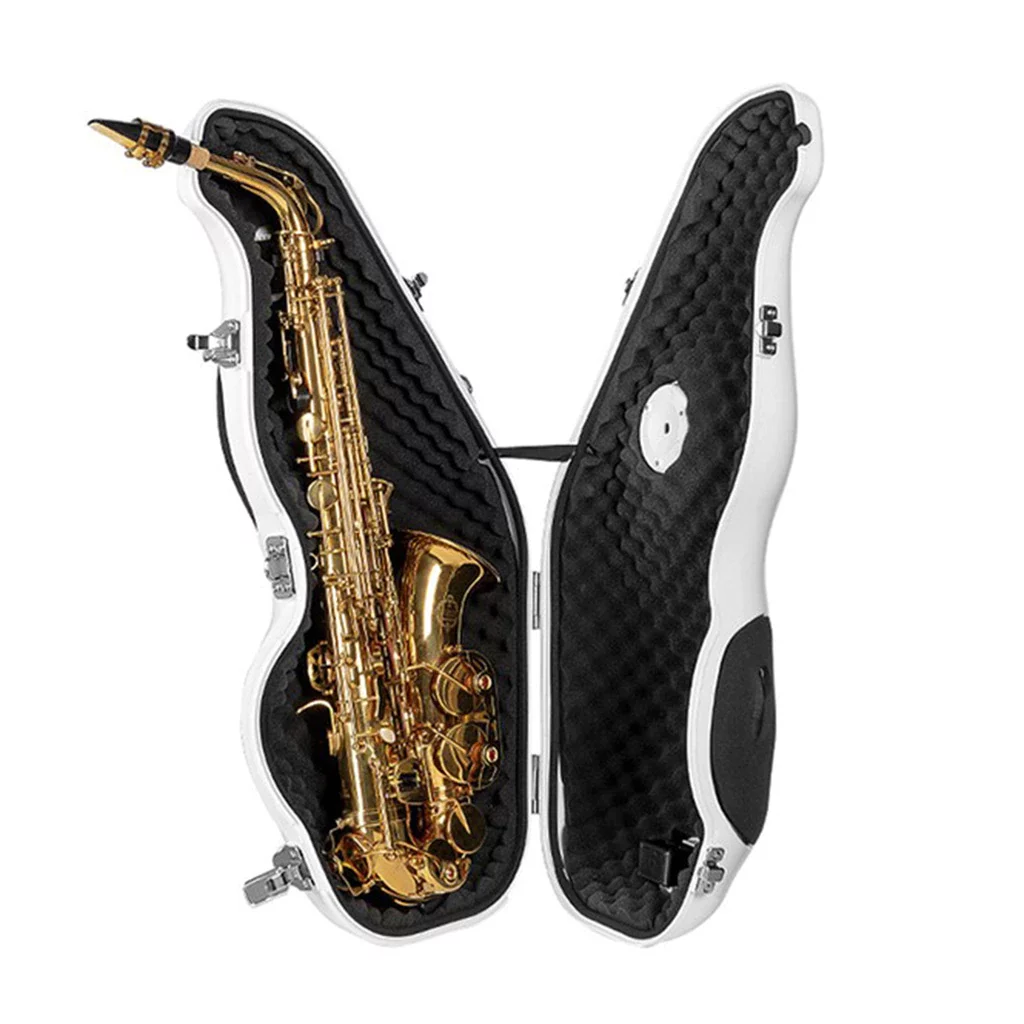 Another effective solution to freely practice and play your saxophone is to soundproof your room. 
This could be done on a cheaper scale to just reduce the overall noise getting out of the room.
 There are several videos you can watch to learn how to soundproof your room with minimum expenditure.
On the other hand, you can make it be done professionally with some additional cost if you're serious about the issue. However, if you want to practice solo, it might not be necessary to do soundproofing a whole room but to just get a personal whisper room instead.
A whisper room booth is a small room custom-built and soundproofed to enable practicing music without disturbing others (see the photo below).
 The room can be of various sizes and can be as small as 10 square feet, having enough to practice your instrument without any worries. 
Not everybody would be willing to invest in this type of solution but if you are serious about your saxophone carrier it is one of the best choices you can make to solve the issue. 
You can check out various companies that produce these rooms and do different types of sound insulation to find out what fits you best.
Digital saxophone, or eclectic saxophone as some may call it, is an electronic counterpart to a classical saxophone and a truly excellent addition to the saxophone family. 
Digital saxophone has a very similar tone and key alignment and is a great alternative to a classical saxophone if you want to practice it quietly. 
The most relevant perk of this instrument in this case is the ability to adjust the volume. 
Most digital saxophones are midi instruments, thus it is easy to regulate the sound and adjust it to your needs. 
Some of the more advanced models such as the Yamaha YDS-150 digital saxophone, even have a way to transfer the sound to your headphone and completely isolate yourself from the surroundings. 
Practicing electric saxophone with headphones gives you maximum freedom as you can practice freely without any fear of disturbing others.
in case your interested in more details about digital saxophones makes sure to check our our article:  Digital saxophones – all you need to know!